Supply Chain Management
Production and procurement processes that you can rely on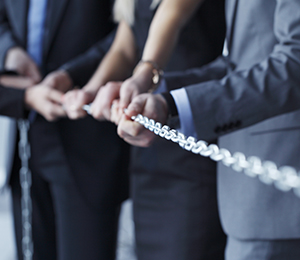 Every day we make sure that our customers receive the products they have ordered in constant high quality, thanks to our established supply-chain management processes.
The central task for our SCM team is the integrated, process-oriented planning and steering of all merchandise and information flows, across the entire value chain from the raw materials supplier to the customer. For you as a customer, this means that inventory maintenance, logistics processes and order processing run smoothly at all times. 
Our tried-and-tested materials management guarantees delivery of all list products within 24 – 48 hours of receiving the order, so that our customers can control their inventory precisely, thus minimizing capital commitment. By ascertaining the optimum batch sizes, we achieve economies of scale and thus reduce production costs. And for export, we draw up customs documents, certificates of origin and supplier declarations, so that we can ship safely all over the world using all modes of transport, independent of the incoterms agreed.
Our GMP certification (Good Manufacturing Practice) verifies the high standards we maintain in manufacturing, monitoring and stockkeeping. Thus, all our warehouse and logistics processes are temperature-monitored, and the quality of both the raw materials used and the finished products is constantly supervised according to strict standards.
From continual observation of the procurement markets through careful selection and strict qualification of our suppliers to precise fulfilment, all our processes and costs are subject to constant optimization.
Permanent readiness for delivery thanks to optimised production planning and stockkeeping
Quality and reliability based on clear production guidelines within a longstanding network of suppliers
Attractive conditions thanks to strategic, cost-oriented supply chain management